Hi! I'm Janna
I am a Holistic Nutritionist, Integrative Nutrition Health Coach, and passionate about helping others feel their very best! I learned during my battle with Lyme, hypothyroidism, candida, and leaky gut the power of food as medicine.
Healing and restoring your gut is key to vibrant health! I went from Lyme sufferer to Lyme conqueror and using food as medicine was KEY!

Janna
"There is no magic pill for Lyme, gut issues, hormone balancing, glowing skin, weight loss, or clear head…
…The magic is in your bodies innate ability to repair damage and inflammation through proper nutrition and lifestyle changes!"
---
My Path to Health
I remember growing up
Watching my mom go from diet to diet, lose 20lbs, only to gain back 30 more. As a teenager I would play around with diets and workout constantly. I learned at a young age that diets have a beginning and an end. I suffered from eating disorders as a teenager and as an adult. I have learned how to navigate through all of it and get past it. Without adopting a healthy lifestyle you will always end up right where you were before or worse.
As a young adult
I ate what I thought was healthy (low fat, Slim Fast, sugar free, diet sodas, and tons of so called healthy foods) but I was not healthy. I was consuming large amounts of sugars and processed foods and for that I suffered from anxiety, horrible PMS, depression, and IBS. If it wasn't for my consistent work out routine there is no telling what other symptoms I would have had.
In April of 2012
I woke up with a bullseye rash on my right inner thigh. I had no clue as to what it was or what caused it so I ignored it. Month after month I would become more fatigued with new symptoms each month but as a working mom of 2 toddlers I chalked it up to motherhood. In October of 2012 my health took a turn for the worse. I was overcome with severe anxiety, panic attacks, depression, brain fog, fatigue, muscles aches/pains, confusion, and derealization. It was like my body was being attacked. I went from super mom to a shell of a human being. I went to doctor after doctor but no answer as to what was making me so sick.
In November of 2013
I was diagnosed with Lyme disease, hypothyroidism, systemic candida, heavy metal toxicity, anemia, and leaky gut. I took my health into my own hands and began to use food as medicine. I starved the disease instead of feeding it. I completely eradicated Lyme from my body. I healed my gut. I healed my thyroid and it began functioning on its own. I rid myself of every single symptom 100%. I learned how to navigate through detoxes and how to listen to my body. I was 32 years old at the time and in the best health and shape of my life.
Today
These health journeys taught me so much about nutrition, how the body functions, stress management, detoxes, and supplementation. I found my calling through those illnesses and that is to help others regain control of their health. Anyone that knows me knows my passion for helping others to get well. I have been on the dark side of health and I understand what it is like to feel hopeless, helpless, and to not know where to start. I successfully overcame those illnesses using the same tools I will teach you. So no matter how small or big your wellness goals are I will help you reach them!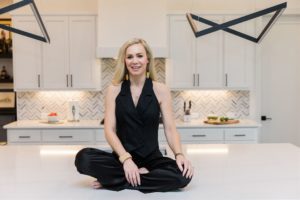 "Abs are truly made in the kitchen!
Incorporating a personalized workout routine, stress management, and sound sleep is icing on the cake!"
Fun Facts
I am a born and raised Texas girl.

I love to travel and a good adventure!

I love dogs and horses (and their kisses)!

I use to be addicted to sugar!

The outdoors is my sanctuary!

Favorite indulgence is dark, dark chocolate

My favorite sports are tennis and horse riding.

I am obsessed with beauty products!

I am known for an eclectic taste of music!

I love to play games! Indoor, outdoor, I'm in!

Best way to describe me is a country girl in heels!

I love sitting by fires and look forward to the cold weather every fall!

I can't watch scary movies because I think watching them will make them come true!
Why Choose me?
My passion and purpose is to help you feel your very best!
I have the training and knowledge, yes, but my most important teachers are my own personal experiences with invisible diseases and illnesses. There is no school in existence that can teach one what it is like to be so sick you can't function and comeback to better health than before the sicknesses. I understand the symptoms and what it does to ones life. I know what it takes and how to implement a plan that gets you back to 100%! Work with me 1:1 to feel better than you knew possible!