Egg drop soup? Yes, and it is so easy to make! You will love this version better than most restaurants you have tried, promise. This is one of my go to's for quick easy meals and it comes together in 20 minutes! My kids love it so that is always a plus! This soup has tons of healing benefits for your body. Between the nutrient profile of the pastured eggs and bone broth you are giving your body a big shot of nourishment. Gut healing collagen, minerals, and vitamins. This soup is easy to digest which makes it a great meal for light dinners (which I love!), if you are sick, or if you just don't want much to eat. I typically make Brazi Bites with this, which are a Brazilian type roll, that are grain free. My kids love to dip the in the soup.
This egg drop soup does not have any carrots or corn like some restaurant style versions have and I do not find it needs it. I do not use any thickener for this soup and it is also not needed. I highly recommend using pasture raised eggs. Not only is there nutrient profile higher because of the environment the hens were in and how they ate but they REALLY amp up the flavor and give it a beautiful yellow color. Trust me on this. I have made this soup with variations of eggs, for the few times I did not have pastured eggs, and it is so much better with a high quality pasture raised egg! My family swore I changed the recipe up once and the only change was better eggs!
If you are going to cook Brazi Bites with it they take about 20 minutes to cook, which is about the same amount of time as the soup, so get your oven heated up and the Brazi Bites popped in right before you begin making the soup!
Making this soup is really as simple as it sounds. Put your bone broth and avocado oil in your pot and turn the heat on high. While the broth is heating up crack and whisk your eggs. I like to add the seasonings to the eggs before I add them to the broth but either way works!
Once your broth begins to boil then turn the heat off. Grab your spoon and begin to stir the broth to get it going and once you have a nice little funnel slowly ad in your eggs. The eggs cook immediately and the soup is ready!
Enjoy!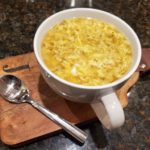 So Simple Egg Drop Soup
Easy, Quick, Warm, and Delish
Ingredients
96

oz

Chicken Broth

Chicken Stock

10

Large Eggs

I used pasture raised.

2

tbsp

Avocado Oil

2

tbsp

Freeze Dried Chives

Fresh Chive will also work

1

tsp

Onion Powder or Granules

1/2

tsp

Ground Black Pepper

1

tsp

Sea Salt

1

tsp

Garlic Powder
Instructions
Pour chicken bone broth into medium size pot and turn heat to high, wait for boil.

Add in avocado oil to chicken bone broth.

While waiting for bone broth to boil crack eggs into medium size bowl and whisk until eggs all yolks are broken.

Add in all seasonings to broth and stir.

Once broth is beginning to boil turn off heat. Begin to stir broth with spoon. Once broth is whirling good then slowly add in beaten eggs and voila!
Notes
This soup is so yummy, quick, and easy to make.  Not to mention it is good for you! Between the nutrient profile of the pastured eggs and collagen from the bone broth you are giving your body a bug shot of nourishment!  I can have this soup ready in 20 minutes or less. The whole family loves it!  We really love this simple version but you can add so much to this dish!  I often serve it with brazi bites because my husband and kids love to dip them in the soup!  This soup is great to heat up the next day to warm you up and is also great as a side dish.  I hope you enjoy!!
The post So Simple Egg Drop Soup appeared first on Revive by Janna.