This apple pecan chicken salad just scream spring and summer! Light, delicious, and so easy to make. I use my paleo mayo, I Can't Believe it's Mayo, which is the secret ingredient. This salad is full of healthy fats from the mayo and protein from the chicken and when you serve it over a spring mix then you are getting phytonutrients as well! I use organic canned chicken but you can use any leftover chicken that you have. If you are using canned chicken it is important to buy the cleanest version that you can which is why I buy organic.
I love this recipe right after I make it but it taste even better once it has chilled. I feel like everything taste better once all the flavors have to time to set and absorb, don't you? You can serve this over a spring salad mix or make a chicken salad sandwich using the Base Culture Paleo bread, which is amazing if you haven't tired 🙂 We love to make chicken salad lettuce boats at our house! Sliced up grapes also go good in this salad and the kids really love that addition.
You can make a fun appetizer with these, Chicken Salad Cucumber bites, by putting a tablespoon of the salad on top of sliced cucumbers! This makes a really pretty appetizer. If you make these then slice your cucumbers thick enough to hold the salad mixture.
Enjoy!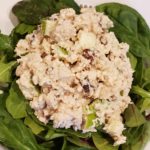 Apple Pecan Chicken Salad
Light and tasty Chicken salad with apple and pecans
Ingredients
15

oz

organic canned chicken

2 cups finely chopped leftover chicken

3/4

cup

Paleo Mayo

See my "I Can't Believe it's Mayo" recipe

1/2

cup

Green Apple – finely cubed

1/2

cup

chopped pecans

1/2

tsp

sea salt

1

tsp

ground black pepper

1/2

cup

sliced grapes

optional but adds sugar to recipe
Instructions
If using canned chicken get into bowl and use a fork to break apart or else you will have thick chunks of chicken

Add mayo, salt, and pepper. Mix really well with fork. A fork works best for this recipe. Add a little more mayo if desired.

Taste Test! This taste even better once chilled 😉
Notes
Great salad when you want something light.  I highly recommend my homemade mayo recipe or this just doesn't taste the same!  I use green apples over red because of their tartness and because they have less fructose.  Eat by itself, over a spring salad, or my kids fave, chicken salad lettuce boats 🙂
The post Apple Pecan Chicken Salad appeared first on Revive by Janna.