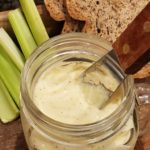 Print Recipe
I Can't Believe it's Mayo
Not the mayo you grew up on! Use it as a spread or dip!
Ingredients
1 1/2

cups

Avocado Oil

2

Large Eggs

I prefer pasture raised

1

tsp

Bragg's Apple Cider Vinegar

3

tsp

Dijon Mustard

1 1/2

tsp

Sea Salt

1

tsp

Fine Ground Pepper

1

tsp

Garlic Powder
Instructions
Put all ingredients in the mixing cup that came with immersion blender or a mixing bowl. Place immersion blender at the bottom of bowl and slowly raise it up as it blends. You will see the ingredients come together and turn into mayo!

Add any extra seasonings that you want!
Notes
Keep the mayo in a mason jar or other sealed container.  Will stay fresh in fridge for 7 – 10 days.
Mayo fan? If not, you will be after trying this recipe! This mayo is dairy free and paleo. I personally did not like miracle whip or store mayo growing up. It smelled like vinegar and tasted, not so good. This mayo is so good, creamy, and healthy. My kids go crazy when they make it! They love using it for sandwiches and pretty much anything they can dip into it. Did I say dip? Yes! We also use this as a dip! Bell peppers, carrots, cucumbers, celery, sugar snap peas and more go great with this mayo as a dip.
There are only 4 ingredients plus some seasonings to make this and it comes together in less than 5 minutes! I have only made this using an immersion blender, which if you don't have one I highly recommend. Immersion blenders are great for making dips, soups, and mashed cauliflower or potatoes. The funnest part in making this mayo is watching it turn into mayo creamy goodness as you slowly raise the immersion blender! My kids always love helping with that part!
I typically set aside about 1/2 a cup of it once it is made to make special sauce. Special Sauce is made by mixing Primal Kitchen Unsweetened Ketchup (about 1/4 cup) into 1/2 cup mayo. The flavors go so well together and makes an amazing sauce for bunless grass fed burgers, shrimp, french fries, or tator tots.
Have I mentioned that this mayo is loaded with healthy fats? I make it with avocado oil so it is full of healthy fats. Healthy fats keep you fuller longer, help keep your blood sugar balances, are a great energy source, and great for brain health!
I would love to hear from you!