I don't know about you but I am so happy fall has arrived! It was such a hot summer here in Texas and our temps are cooling off faster than norm for this time of year so I am falling (get it?) right into it head first! Fall is in the air, the stores, our mouths! Pumpkin spice and everything nice!
Lines are rolling through Starbucks to get the all things pumpkin drinks so if that is you please stop!
Look at the nutrition label of Starbucks Pumpkin Spice Latte! 370 calories, 48 grams of carbs, and 46 grams of sugar! Does tape come with this so I can tape all that to my thighs and gut? Uh, no thank you!
Not to mention the Starbucks version is FULL of inflammation! BUT there is a MUCH healthier version that taste even better and is SO MUCH better for YOU!
Are you ready for this? Check out the side by side nutrition labels for a shocker!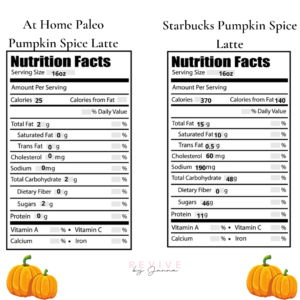 This recipe is SO easy to make! I use my Keurig but a good medium roast coffee is key! A light roast just won't cut it! If you have not heard of Nut Pods creamers, well, you can thank me later 😉 Nut Pods are dairy free, unsweetened, and so good! My faves are the vanilla, toasted marshmallow, and the pumpkin spice!
When you eat clean whole foods and try to stay away from sugars, additives, and dairy you give up a lot of comfort foods BUT you don't have to, especially with this drink. It will not disappoint, I promise. In fact, I normally make a 2nd one right after because it is just that good!
SO save yourself 345 calories, 46 carbs, 44 grams of sugar, and your health!
I would love to hear if you fell in love with drink too!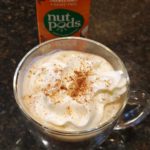 Print Recipe
Keto Pumpkin Spice Latte
Fall is in the air with this little cup of fall heaven! Pumpkin spice and everything nice is exactly this drink!
Ingredients
16

oz

Medium roast brewed coffee

I am a decaf girl!

2

tbsp

Nut Pods Pumpkin Spice Creamer

unsweetened dairy free

2

packets

Stevia

I prefer SweetLeaf Stevia

4

tbsp

Reddi Wip Almond Milk

1

tsp

Pumpkin spice
Instructions
Fill your favorite mug with 160z of medium roast brewed coffee

Add Nut Pods pumpkin spice creamer, stir.

Add Reddi Wip almond milk cream on top

Sprinkle the top of Reddi Wip with pumpkin spice

Grab a small spoon to take a bite of pumpkin spice Reddi Wip off of the top 🙂
Notes
Get ready to fall, no pun intended, in love with this warm drink! This drink is low on cals, sugar, and carbs but high in flavor!