Why Quick Fix Diets Are all Wrong
Do you struggle to lose weight? Do you easily drop the first 5lbs and then get stuck? Maybe you have lost all the weight and now you have plateaued and cannot lose the last few pounds. Whatever your struggle has been I have a solution for real sustainable weight loss.
My solution is not a quick fix. Why? Because quick fixes are not sustainable! The reason you are likely struggling to find a way to lose weight is because you are looking for a quick fix. Did you also know that hormone balance is often linked to weight loss? In fact, weight loss, stress, sleep, exercise, hormone imbalances, and blood sugar regulation are all linked together! If you are off balance, on one of those areas it is often the start of a domino effect!
I grew up in the 80's and 90's, and I have heard of every crazy fad diet you can think of! I watched my mom experiment with pretty much all of them, from the cabbage soup diet, slim fast, weight watchers, to joining super shapes for women (remember that?!), and walking around the house with weights on her ankles! Even as a young girl I saw the beginning and end to many diets my mom tried.
What I learned from observing all of this was that none of those weight loss diets were sustainable, but most importantly they were not enjoyable! Your eating habits should make you happy, keep you full, provide energy, and keep you at a happy, healthy weight.
Most of us women worry way too much about our weight and what we look like. I am guilty of that myself! I know I like to feel a certain way in my jeans, and it is not like a can of biscuits about to be popped! We will do extreme dieting to lose a few pounds even though we are hangry and about to chew our own arm off. I have seen countless women think they are going to reach their goal body weight for swimsuit season in 2 weeks! It is not going to happen that way! It is a process and it is not a magic pill!
There is a way to reach your goal weight with a healthy lifestyle that also balances your hormones, relieves stress, clears your foggy head, provides better sleep, and leaves you feeling great inside! I know. I have birthed 3 beautiful babies where I had a total of 115 lbs to lose combined, plus hormones and life to balance out, so I know my way around losing weight and reaching wellness goals! C'mon, I will show you!
Abs Are Made in the Kitchen!
Good news right? You probably thought I was going to tell you to work out 1 hour a day, 7 times a week! Nope! I am going to tell you to work out, but we will get to that in a second.
The first and most important thing is what you eat and what you stop eating. You will consistently find in my articles that it all goes back to food, and that's because it is the truth. I preach what I teach! Healthy eating is such a simple act that has profound results. Food is medicine for the body!
The way you eat can also be one of the hardest things to change. Why? We are often eating and drinking addictive, unhealthy things! Foods should be healing and nourishing, so if what you are eating is making you gain weight and feel bad then it is not serving you well. Let's clean it up! Here is a brief summary of what I do with all of my clients.
Cut out Sugar
This is the #1 saboteur to your sustainable weight loss goals, hormone balance, sleep, stress, and happy mood! Sugar is also in almost everything you eat and drink. This is why it is important to eat foods that are not packaged! Now I know that is not always easy, which is why I teach my clients how to read a nutrition label!
So let's do nutrition label 101. When reading a nutrition label, look for no more than 2 grams of sugar per serving and that is whether it is "sugar" or "sugar alcohol." You also do not want a lot of carbs unless there is a lot of fiber. Why? Fiber cancels out carbs, so if there are 20 grams of carbs and 19 grams of fiber then there is a total of 1 net carb.
A key lifestyle change is choosing clean packaged food, meaning no ingredients you cannot pronounce, zero to minimal sugar/sugar alcohol, and preferably full of healthy fats and high protein. You will find some of my go to quick hunger fixes on my recommendations page. These same rules apply to your beverages which is why it is so important to drink water, sparkling water, and tea or coffee. If you like your coffee/tea sweetened use a natural sweetener like Stevia.
Getting rid of all unnecessary sugar will help to balance out your blood sugar and that is key to better metabolism, hormone balance, a clear head, and sustainable weight loss.
Cut out Dairy
I know cheese is a hard one here to give up, but there are some good alternatives! I love cheese so I was so happy when I found goat cheese and sheep cheese (manchego) that I could have and digest well. Goat and sheep cheese are easier to digest and less inflammatory than cow's milk. Many of us do not digest the lactose and/or casein in dairy and that can create disturbances in your gut which lead to a host of other problems like skin breakouts, bloat, sleepiness, fatigue, and hormone imbalances.
For milks, I opt for unsweetened vanilla almond milk, coconut milk, or macadamia milk. I use these for when I have a craving for a cold glass of milk and to cook/bake with! I often get asked if I give my kids dairy, and I do, but I always buy organic without hormones and antibiotics. For milk I buy them A2 milk which is from cows that produce the A2 hormone instead of the A1 hormone, and it is much easier to digest!
Cut out Gluten/Wheat
Gluten and wheat are major disruptors to the gut and immune system. Anything that is hard on your gut is going to also be inflammatory which will wreak havoc on your immune system. I used to have awful PMS, and when I went completely gluten free I was amazed at what a difference it made in not only my PMS but in the anxiety and depression I had at the time.
For the last 5 years I have been grain free as I found that I feel significantly better when I do not eat grains. What does grain free look like? I do not eat rice, corn (not a veggie!), oats, amaranth, quinoa, millet, or sorghum.
Grains can be hard to digest so my advice on this is to experiment. Cut out all grains for 30 days, and see how you feel. You will no doubt lose weight, but do you also notice less bloating, inflammation, a clearer head, and better sleep? After 30 days have a serving of a non-glutinous grain, and see how it makes you feel. You might notice unwanted symptoms within a few hours, but it could be up to 48 hours!
Cut out Legumes
The word "legumes' probably makes you think of beans but this also includes peas, cashews, and peanuts. Legumes can also be hard to digest, and we all know they cause gassiness—no fun! If you are going to eat beans cook them in a pressure cooker which makes them much easier to digest!
If you regularly eat legumes, then try cutting them out for 30 days to see how you feel. After 30 days have a serving of legumes and see how it makes you feel. Like with grains, you might notice unwanted symptoms within a few hours, but it could be up to 48 hours!
Eat Your Veggies
This one was a tough one for me when I began eating clean in order to beat Lyme disease. I really didn't see or understand the importance of eating veggies. It sounded so boring and plain! Boy was I wrong! When I began filling up most of my plate with dark leafy greens and cruciferous veggies I started to feel so much better! Veggies have tons of fiber, phytonutrients, calcium, potassium, vitamins, and tons of minerals. Eating tons of veggies is crucial to vitality! I often snack on celery sticks, carrots, and seaweed.
Eat Your Fats
Yeah, if you want to fight body fat, then eat fat! It is true. Not only is this the ideal fuel for your brain (your brain is made up of 75% fat and is the fattiest organ in your body) but fat keeps you full for longer periods of time.
How many of you did the low fat fad diet? How did that work out? There are still people today that are scared of fat. I eat mostly fat! If you are not on the healthy fat wagon, then load up!
What foods have healthy fats? Avocados, coconuts, nuts (besides cashews and peanuts as you now know are legumes), olive oil, olives, chocolate (check out my approved chocolates), grass fed butter, ghee (butter without milk solids), goat cheese, and sheep cheese.
Healthy fats digest slowly which means you will feel fuller longer. As you incorporate more fats into your healthy diet you will have less cravings, get better sleep, have improved brain function, and better hormone balance.
Protein
Let's not forget about protein! Your body uses protein to build and repair tissues. You also use protein to make enzymes, hormones, and other body chemicals. Protein is an important building block of bones, muscles, cartilage, skin, and blood. Protein is crucial for your body! You want to include protein at every meal, but it doesn't have to be a large portion size! I am not talking about a tomahawk ribeye, although those are absolutely delish!
Eat clean sources of protein like grass fed beef, pasture raised poultry and eggs, and wild caught fish. Collagen powder is a great source of protein, and I often put a scoop of Primal Kitchen Collagen Fuel in vanilla (recommendations page) in my coffee for protein in the morning since I fast.
So what does my plate look like? My plate is primarily veggies, healthy fats, fiber, and protein! When you eat a balanced meal like that your body is getting everything it needs to thrive! So as you can see, what you eat, or rather, what you do not eat is the most important factor to weight control, balancing hormones, and better overall health.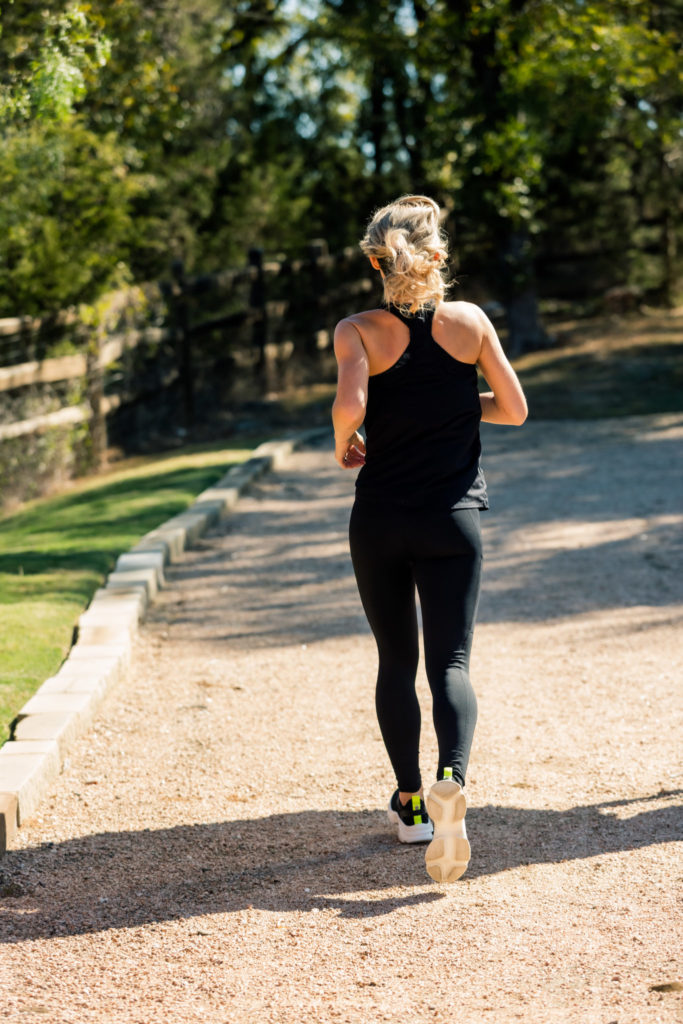 Exercise
Of course exercising is important to sustainable weight loss, but first make sure you are eating right. If you are not eating super clean and eating inflammatory foods then thinking that a good workout will compensate for poor food choices you are not doing yourself any favors. Once you are following my "abs are made in the kitchen" guidelines, then you will reap the benefits of a good workout!
So many people think they need to work out every day for an hour at a time, and that is not true! There is such a thing as working out too much, and that is not healthy. The right exercise routine should leave you feeling refreshed and strong! Not exercising properly can you leave with taxed adrenals and zero results.
HIIT Training
My personal favorite form of physical activity is doing HIIT (High Intensity Interval Training). If you are not familiar with HIIT it is a combination of brief, very-high intensity bursts of cardio exercise followed by equal or longer periods of rest, and then you repeat the cycle. You can accomplish an amazing workout, get seriously toned, and shed some body fat by working out this way. I know because this is exactly how I lost the baby weight all 3 times and how I stay fit. You can also accomplish this in 20–25 minutes which means it is easier to fit in time to exercise.
I do HIIT training with weights, walking/running, spin class, or my Bowflex M7 trainer. What I also love about HIIT is that I can do it anywhere, from my living room, backyard, local trail, or wherever I travel! How often? I personally like to work out 4 times a week, but I am not hard on myself if I do not reach that goal. As long as I am eating properly then I do not have to be hard on myself with my workout routine.
Benefits of HIIT Training
Muscle tone/definition
Less time required
Shred fat
Rev metabolism
Burn calories even after the workout is complete
Easy to do anywhere
What do you say? Are you ready to try HIIT?
Intermittent Fasting
There is a lot of talk these days about intermittent fasting. I have been intermittent fasting for 4 years and love it. Intermittent fasting is not a diet plan but rather a timed approach to eating. There are different ways to do this, but my personal favorite method is fasting for 16 hours, on average, between my last meal of the day to my first meal of the next day. I try to not eat after 6 or 7pm and then I fast until about 10 or 11 am the next day. During my fast I will have water, sparkling water, decaf tea, and/or decaf coffee.
As I am approaching 15 hours, I add in my collagen creamer with MCT oil that helps get me to my 16 hour goal and is also wonderful for brain function. Once I have reached my 16 hour fasting goal, I then break my fast, (break – fast), with a source of healthy fat, protein, and fiber. People often think they will starve going this long without food, but it is quite the opposite. If you are new to intermittent fasting then start with a 14 hour window and and work your way up. Most of us naturally go 12 hours so 14 hours is a good place to start.
Benefits of Intermittent Fasting:
Lose weight and belly fat
Initiates important cellular repair processes called autophagy, which is cellular waste removal (think heal & repair!)
Improved brain function
Helps prevent diseases and fight diseases
Reduces inflammation
I also have to say that it is so nice to not have to worry about what to eat in the morning. A lot of people consume a carb and sugar laden breakfast and those are just unnecessary calories. It is so nice when traveling because I am not hungry or worried about what to eat or if there will be anything I can eat. I know I can get coffee and water wherever I go and I always take my collagen MCT oil creamer plus my stevia to add to my coffee to keep me going!
I often get asked if I workout during fasting and the answer is yes, I do! You do not have to, and if you are new to fasting then my advice would be to let your body adjust to intermittent fasting first before incorporating HIIT during your fasting time. The great thing with HITT is that it is so easy to fit into your day! I love working out in the morning so that it is done before the busyness of my day sets in, but there are times when I cannot fit my workout in until lunch or the end of the day. I personally try not to workout too late in the day or I will have a hard time getting to sleep!
Reduce Your Stress
We have covered so much between food and exercise but it is also important to get a handle on stress. We all have it, and it seems the norm these days, but did you know that too much stress causes your body to hold onto weight, causes inflammation, lowers immune function, raises your blood pressure to dangerous levels, and makes your hormones go crazy?
I know how hard it is to balance life and everything it throws our way. Our bodies are not meant to be under constant stress so it is important to be gentle with ourselves and to learn how to unwind everyday. I will share with you how I unwind and handle stress.
  My Stress Relievers:
Exercise – aim for 15 to 25 minutes
Journaling – I write down everything that comes to my mind without judgement no matter how bad it may be, and then I throw it away
Gratitude list – Upon waking and at bedtime I say in my head everything I am grateful for, no matter how small.
Meditate – Meditating is so simple and just 5 minutes a day can have profound results. I love the Headspace app, and it offers 3 minute to 60 minute meditations. I love to mediate 5 minutes in the morning and 5 minutes in the evening, but some days it is just 5 minutes and that is ok!
Nature – Connecting with nature is one of my favorite ways to unwind. Fresh air can do wonders. Whether it is going for a walk, looking at the starry sky, or listening to nature, get outside and breathe!
Detox Baths – If I am not washing my hair, then I take a hot bath with 4 cups of epsom salt, lavender bubbles, and 10 drops of lavender oil. Not only is the magnesium from the epsom salt great for tension and muscle aches, but it feels like all of my stresses melt away! So light some candles (or turn them on) and relax!
Try incorporating a few of my stress relievers into your daily regimen, and be on your way to feeling better!
Get More Sleep
This post would not be complete without stressing the importance of a good night's rest. So many people are used to poor sleep and functioning while tired when they shouldn't be. Adults should get 7–8 hours of sound sleep a night to really reap the benefits of a good night's rest.
I am not going to say to stay away from electronics because I myself often have electronics on when I am in bed or my husband does. If you have electronics on, then stay away from stimulating shows, games, and/or those good books you just can't put down! Electronics are stimulating enough alone so at least stick with calming and mindless shows/books that don't get you amped up.
I like to do some deep breathing when I get in bed to help my body unwind and get ready to sleep. Take in a deep breath through your nose, hold for 4 seconds, and slowly exhale through your mouth. Repeat!
  Benefits of Sound Sleep:
Reduces brain fog
Feel refreshed
Less food cravings
Stronger immune system
Reduce inflammation
Helps with weight loss
Happier mood
The health benefits of a good night's rest sound pretty good huh? As you eat better, exercise, reduce stress, and intermittent fast you will find that you sleep more soundly. It is also important to not eat a big heavy dinner and also make sure bedtime is at least 3 hours after dinner to ensure sound sleep. As your hormones balance out and your body detoxes you will find your way to some solid zzz's!
Replace Bad, Unhealthy Habits with Good Ones & You'll See Results!
As I said there is no magic pill for losing weight. Long-term weight loss requires shedding bad unhealthy habits and replacing with the above healthy habits. Hormone imbalances could be the cause of stubborn weight gain and the weight being stubborn to come off. If you are under a lot of stress and not dealing with it in a healthy way then stress could be sabotaging your sustainable weight loss efforts. Your entire body systems work together, so it takes balancing them all out in order to lose weight and keep it off. This is not a quick fix but it is a sustainable fix, and you will lose much more than weight!
I would love to hear from you!  Which of these tips will be the hardest for you to incorporate?
More Support to Reach Your Sustainable Weight Loss Goals
I know making some of these changes can be tough. Accountability and support can go a long way to you sticking to your plan. If you are interested in working with me to work toward your best self, schedule and appointment now.