This soup is light, tasty, easy to make, and great for whatever the weather! I was thinking of a good chicken soup after all 3 of my kids, husband, and myself all got sick with the flu one after the other. I was also sick with a bacterial infection in my stomach and there was not much food that sounded good to me. Once I was well I created this recipe for an easy to digest chicken soup. I have made many varieties of chicken soup before but I wanted something even lighter since I am still taking it easy on my gut.
I will say that one of the things I love about soups is that they are so versatile. You can really get creative with toppings and that is usually how I bribe my kiddos into eating soups! With 3 kids and their constant changes with their taste buds it can be impossible to make something that everyone likes! I have to say that all 3 of my kiddos loved this gut healing chicken soup.
Why do I call it gut healing? For starters I used chicken bone broth which is full of collagen, amino acids, vitamins, and rich in nutrients. Bone broth strengthens your bones and helps heal the lining of your gut. You can make your own bone broth or you can buy it at the store. I did not use any onions or garlic in this recipe because they can sometimes be hard to digest. Onions and garlic are a prebiotic, meaning they feed probiotics (good microbes in your gut), and they are a high in FODMAP. FODMAP stands for Fermentable Oligo-, Di-, Mono-saccharides and Polyols. They are fermentable carbs that can cause symptoms like gas, bloating and stomach pain. I love onions and the flavor they add to foods but since they can upset my stomach I omitted them from the soup.
I honestly was worried about not adding onions or garlic for fear that the soup would not have a good flavor BUT I was determined to have an onion and garlic free soup. Leaving those tasty veggies out led me to get creative with adding flavor. This soup has tons of flavor but is not too seasoned as my stomach and taste buds were just not there yet. I had my ah ha moment when I decided to brown my whole chicken legs in the bottom of my pot in avocado oil, seasoned with only sea salt and pepper. Sounds so simple, I know! In the past when I have made chicken soups I either used left over chicken or boiled my chicken. I also figured out a few chicken soups ago that using dark meat is SO much better & tasty than using plain ole chicken breasts, no offense. The flavor that using dark meat gives is unbeatable!
If you are wondering what kind of chicken I used it was pasture raised whole chicken legs. I personally only use pasture raised poultry products. You are what your food eats and since this is a gut healing soup I definitely stuck to my pasture raised rule 🙂
I used simple veggies in this soup to stick to my gut healing theme. I love cruciferous veggies BUT they can cause unwanted gas sometimes so I left them out! Instead I thinly sliced up celery and browned them with my chicken legs. Awe, the smell was heaven! Zucchini would also be good to add if you wanted.
Once the chicken legs and celery were browned I added in my bone broth then the carrots. I added in 6 cups of water and then brought it to a boil. Have I mentioned how wonderful the kitchen smelled from the brown chicken legs yet? I was no longer fearing that omitting the onion and garlic was a travesty.
Ok, so while I was waiting for the chicken to finish cooking and for the carrots to cook I did some slicing. I sliced up tomatoes, avocados, and some limes. I would have chopped up some cilantro but I forgot it at the store. Next time.
Once the chicken was cooked I took it out, let it cool, deboned it, and cut up to put back in the soup. I squeezed the juice of 4 limes into my soup which really adds to the flavor and gives it the " I am going to make you well" feeling. Last but not least I added in spinach. Spinach is full of vitamins, minerals, and phytonutrients and it is easy to digest. Spinach cooks fast when adding it to boiling water so I immediately turned the heat off. I added in a little more salt and the soup was ready!
The kids really enjoyed the toppings and so did I. For toppings we had fresh tomatoes, avocados, Siete grain free tortilla chips, and goat cheese. I also would have added cilantro if I wouldn't have forgotten it at the store. I chose just the tomatoes and avocados for myself. Now it was time for the taste testers approval and they all approved. Everyone loved the flavor and simplicity of the soup! This recipe is really easy to turn into a chicken tortilla soup by adding in Siete grain free tortilla chips, cilantro, and cheese or you can have it as is!
I hope you enjoy this gut healing recipe as much my family does! I would love to hear if you enjoyed it just as much!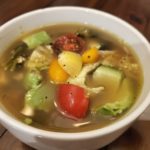 Print Recipe
Gut Healing Chicken Soup
This soup is so versatile! Easy to digest, healing for your gut, and full of flavor!
Ingredients
4

Pasture Raised Whole Chicken Legs

you could use 6 whole thighs

2

tbsp

Avocado Oil

1

cup

Celery – finely sliced

4

Whole limes cut in half

2

cups

Carrots – chopped

4

cups

Raw Organic Spinach

64

oz

Chicken Bone Broth

6

cups

hot water

make sure water is hot so that your soup comes to a boil faster.

2

tbsp

Sea Salt

You will not use this all at once. You will use about 1 teaspoon to season chicken with and the rest will go into broth.

2

tsp

finely ground pepper

to season chicken with

1

cup

sliced organic tomatoes

Optional topping – I used sweet cherry tomatoes

3

Avocados

optional topping

Shredded goat cheese

optional topping

1/2

cup

chopped cilantro

optional topping

Siete grain free chips

Optional add in
Instructions
Put avocado oil into the pot you are going to make your soup on. Turn heat on and let oil get warm.

Open up your package of chicken spray with avocado oil, sprinkle with salt & pepper. Place that side of chicken down into hot pan to brown. Now spray the top side of chicken with avocado oil and season with salt and pepper.

Slice up celery while chicken is browning. Turn the chicken over to brown the other side and add in celery. Sprinkle with 1/2 teaspoon of salt.

Chop up your carrots while the other side of chicken is browning with celery.

Once both sides of chicken are browned pour in your broth and hot water. Add carrots. Add juice from 4 limes. Bring to a boil. While waiting cut up any toppings you want.

Once water is boiling your chicken should be perfectly cooked. This is a good time to taste your soup and add in the remaining salt, if needed.

Take out your cooked chicken and place on cutting board. Turn heat down on soup so veggies don't get too soft. Debone the chicken and cut up.

Add your chicken back to your soup, turn heat off, add in spinach. Your soup is hot enough that your spinach will cook fast and not get wilty.

Your soup is ready to eat

Pour into bowls or large mugs and add your toppings!
Notes
I used pasture raised chicken.  Pasture raised chickens are allowed to roam land, eat insects, and live off the land as they should.  They are not feed a vegetarian diet and pumped full of antibiotics.