Strawberry Heaven Anyone?
This is the perfect light guilt free dessert.  It is full of strawberry flavor and so refreshing.  With only 5 ingredients and no cooking required it is also easy and quick to make! I grew up eating a different version that was made with cool whip and strawberry jello powder (dye anyone?).  It was called pink stuff.  Seriously.  I loved when my mom made it but when I became a mom and began to eat clean I gave up this dessert.  As I learned how to make healthier versions of the foods I once loved I thought of how to recreate this recipe to a cleaner and even tastier version.
Clean Ingredients
I knew I couldn't use jello powder so I switched that out to strawberry flour which is simply freeze dried strawberries put into a food processor and making into a fine flour.  This gives the dessert a pretty pink color, tons of flavor, but without dye, chemicals, and added sugar.  Win win!
Coco whip is one of the best desserts by itself so I knew I was replacing cool whip with So Delicious coco whip!  Not only does coco whip taste better but it is better for you!  No corn syrup or artificial sweeteners!
Instead of using just any cottage cheese I opted for a cultured one, my fave is Good Culture double cream cheese cottage cheese.  Doesn't that sound amazing?!?  It is made from pasture raised cows and is loaded with probiotics!  I also personally think that a high quality cultured cottage cheese just taste better but any cottage cheese will work.  I recommend buying full fat, which you should buy all dairy products in full fat.  Healthy fat does NOT make you fat first of all and it is better for you.
The pineapple adds to the flavor and texture but does NOT make it taste like pineapple.  This lovely dessert taste like strawberries!
Yum!
This is one of those recipes that taste even better the next day so if you are making this for a party or get together I recommend making it the day before. You might be thinking this is a lot as you are making it but I promise it goes by fast!  I know how much I eat just taste testing! 😉
I can't wait for you all to try this lovely recipe!  My whole family loves it and it does not last long in my house!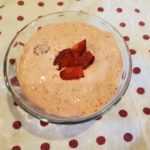 Print Recipe
Strawberry Delight
This light dessert is a true treat and only 5 simple ingredients! After 1 bite you will know why this is called "strawberry delight"!
Equipment
Food Processor or Grinder
Ingredients
24

oz

So Delicious Coco Whip

need to have this thawed out and not frozen

12

oz

Good Culture Cottage Cheese

I used the double cream one

14

oz

Crushed Pineapple in 100% Juice (1 can)

pour over a strainer to drain juice or your dessert will have too much liquid!

2.4

oz

Freeze Dried Strawberries

3/4

cup

sliced up fresh strawberries

will fold in at the end
Instructions
In a large mixing bowl combine coco whip, cottage cheese, and pineapple using a large spoon or spatula. Make sure you strained the juice from pineapple.

Place both packages of freeze dried strawberries into food processor or grinder and grind until it is a fine flour. This gives your dessert color and flavor!!

Add in strawberry flour to mixing bowl and combine.

Fold in sliced up strawberries
Notes
This might seem like a lot when you are making it but I promise it goes fast!  If you are not a cottage cheese fan just lessen the amount and add in extra coco whip.  I only use the So Delicious coco whip because it taste the best but here are other brands that have there version.  
If you are making this for a party or get together I recommend making it the day before because this taste even better the next day!